Biloxi & Gulfport Personal Injury Attorneys Fighting for Fairness in Harrison County, MS
Competent and compassionate advocates seek full and fair compensation
For more than 30 years, The Law Offices of Judy Guice, P.A. has fought for justice on behalf of injured parties in the Gulfport-Biloxi metropolitan area and throughout Harrison County. Concentrating on cases of serious personal injury, wrongful death and insurance bad faith, attorney Judy M. Guice has built a fine reputation as a competent, compassionate and knowledgeable advocate. Since 2010, when Judy's daughter, Sarah Reese, joined the practice, mother and daughter have proven a formidable legal team, bringing superior representation to numerous victims of negligence and unfair insurance practices. Contact our Biloxi personal injury attorneys serving Gulfport & Harrison County.
Past President
Outstanding Woman Lawyer of the Year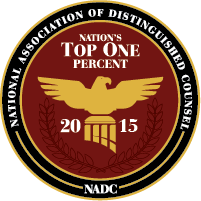 Maintaining high standards of excellence in Biloxi & Gulfport
We are dedicated to obtaining the best possible results for clients in and out of the courtroom. Our practice focuses on the following types of cases:
Both Judy Guice and Sarah Reese are AV® PreeminentTM Peer Review rated by Martindale-Hubbell®, and Judy is also named in the Bar Register of Preeminent Lawyers. We strive every day to live up to these accolades, by helping those whose lives have been affected by the negligence of others.
Delivering results for injured clients in Biloxi, Gulfport & Harrison County, Mississippi
Personal injury attorney Judy Guice's efforts were instrumental in bringing justice to Hurricane Katrina victims after insurance companies wrongfully denied legitimate claims. She successfully argued the landmark Hurricane Katrina case of Corban vs. USAA Insurance before the Mississippi Supreme Court. That case shifted the burden of proof from policyholders to the insurance companies. Attorneys Guice and Reese have an in-depth understanding of how insurance companies work. We are ready to help you win your fight over a denied or delayed insurance claim made on polices for life insurance, accidental death and dismemberment, ERISA, disability, homeowners insurance, uninsured motorist, fire insurance and automobile insurance.
Contact our Gulfport & Biloxi personal injury advocates
The Law Offices of Judy Guice, P.A. successfully serves clients in Gulfport and Biloxi, along the Mississippi Gulf Coast, and statewide. Each client receives focused personal attention from the free initial consultation onward. If you or a loved one has been injured, or an insurer unfairly denied you benefits, call us today at or contact our office online.